Yachting and Sailing in Turkey
Available for charter in Turkey. Marmaris, Bodrum, Fethiye, Gocek, Kalkan, Antalya.
Are you looking for the best yachting or cruising holiday? Try Turkey. Yacht charter has never been better. It has the three most important ingredients for perfect yachting.
**Natural unspoilt coastline
**Beautiful weather from mid April to end October
**Warm friendly welcome
In addition to the above, Yachting and Sailing in Turkey is the best for the following reasons:
# Charter yachts offer better value compared to the West Med. and the Caribbean
# Flying time is only 3.5 hours from the UK with good international connections.
# The area is well served by both charter and scheduled airlines
# Food and restaurants are very well priced with excellent Turkish Mediterranean cuisine
# Local wines and beers are superb and value for money
# Shore side entertainment and nightlife is wonderful whether you are looking for lively disco's, quiet bars, or a delightful restaurant tucked away in a picturesque bay, accessible only by yacht
# This is a historically rich region dating back to the Byzantine period and ancient Lycia. The area is rich in both Greek and Roman ruins
Visit the section covering available yachts in Turkey
WHAT TYPE OF YACHT?
The main categories of yachts available in Turkey are:
* Traditional wooden Turkish Gulets
* High profile Western design sailing yachts and motor vessels including some of the worlds most luxurious MEGA YACHTS
* Bareboating with or without captain
TRADITIONAL WOODEN TURKISH GULET. ( 'Going Native')
Zephyria II (Above) An excellent example of quality Gulet Charter in Turkey
Hundreds of years ago these lovely wooden yachts were originally built to carry commercial cargo of goods and travellers. Chartering a gulet could be termed 'going native'. The standard of the vessels vary from basic to 'up market'. Crewed by Turkish sailors the Gulet is beamy with 2 to 10 double cabins, mostly en-suite (shwr, wc, basin), generous deck space. Although they all have masts they are mostly moved by engine. However, there are some that are well-rigged and good motor sailers. A few vessels are air-conditioned.
A favourite sailing gulet is the 78' 'Lyra' which has 8 double cabins (12-16 Guests) and is a beauty under sail. An excellent mid size Gulet would be for 10 guests would be 'Papa Joe'. One of the largest gulets available is the top of the range in the deluxe 140' range would be 'Daima' - 10 guests in 5 staterooms. Quality power yachts to consider are: the 78' 'Larimar' and 80' Ferretti 'Splendido'.
The selection is varied to suit both budget and lifestyle.
Visit the section covering available yachts in Turkey
HIGH PROFILE WESTERN DESIGN SAILING YACHTS AND MOTOR VESSELS (POWER YACHTS)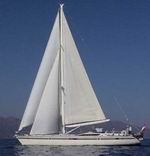 Sailing Yachts range from 44' to 150' and sail under flags from all over the world including Turkey. All are fully staffed, some with cordon bleu chefs and stewards. Most larger yachts (over 60') are air-conditioned, including some of the smaller vessels like the Viking Girl II. Captains and crew are all experienced and most have a good knowledge of this historically rich coastline. One of the original operators who have been in Turkey for the past 12 years is Captain Mustafa and Ghislaine. They are operators of the lovely 65' Zarik II. She has 3 cabins for 6 guests. Other large sailing yachts to visit the area and we would be delighted to make a recommendation.
The selection is varied to suit both budget and lifestyle.
Apart from the vessels that are normally based in Turkey, there is a selection of Luxury Mega Yachts that will be also available for charter this year: Follow this link: Power Yachts in Turkey
There are vessels to suit every lifestyle, taste and budget. Please call our office for complete information, brochures, and rates. Also refer to the page included for a small selection of vessels and rates.
Visit the section covering available yachts in Turkey
How to book your yacht?The more information we have regarding your charter the greater equipped we are to make recommendations. We need to know how many guests will be in your party - singles, doubles and /or children. The season (dates), duration, and in which area you would like to cruise. Sailing yacht or power yacht and a budget guide. The deposit required to book a vessel. The internationally recognised Mediterranean Yacht Brokers Association Charter Agreement is used.
Charter terms will vary depending on the type of vessel you charter.
Most sailing vessels in this area operate on Eastern Med. Terms (EMT) which include the vessel and crew, fuel for 3 to 4 hours cruising per day and half board.
The larger vessels operate on Western Med.Terms (WMT) which is the charter of the vessel and crew only.
Gulets offer a combination of the above.
ALL-INCLUSIVE charter terms are also available.
We have the international expertise to make your charter a truly memorable experience. We are members of the internationally recognised
How to get there? Turkey is well served by International Airlines from around the world. If you are starting from the UK, scheduled services are available on British Airways and Turkish Airlines. Numerous charter flight operators offer air travel to Bodrum, Dalaman, Izmir & Antalya which are the main airports serving Southern Turkey, Dalaman Airport (4 hours from Gatwick) being the closest to the heart of the most beautiful yachting area and only 30 minutes to the lovely coastal village of Gocek. Marmaris is 1.5 Hrs by taxi. Fethiye 1 hour.
Hotels and land arrangements. Depending on the duration of your stay you may like to spend a night or two in a hotel or visit Istanbul en-route. We could make a few recommendations in this regard. Transfers are easily arranged - either by taxi, air-conditioned mini bus, etc. .
Historic sites of importance to visit by yacht.
Mr Bernard Mc Donagh, Author of 'The Blue Guide to Turkey' has selected these sites between Izmir and Antalya. Ephesus, Bodrum, Cnidos, Caunus, Fethiye. From Kalkan; Letoon, Xanthus, Patara. From Kas; Kekova Ad., Myra. From Kemer; Phaselis, Olympus. From Antalya; Perge, Termessus, Aspendus. This would be the absolute minimum needed for an archaeological cruise. There are many lessor important ruins all along the coast some only accessible by yacht.
Itineraries. One of the outstanding highlights of chartering a private yacht is that you are able to set the pace and content of your itinerary. You will be treated as if you own the vessel. Your party may have a particular interest, snorkelling, water ski, windsurfing, nature, historic sites, shopping, tavernas etc. Your Captain will know where to take you. However, you may like a few suggestions in advance of your arrival and we will be happy to liase with the Captain on your behalf.
Visit the section covering available yachts in Turkey
Sample one week itinerary:
GOCEK - GULF OF FETHIYE
Arrive Dalaman airport (this serves Gocek, Marmaris, Fethiye and Bodrum) then take a taxi or mini bus depending on the size of your party, to the beautiful village of Gocek. This scenic drive of 30 minutes. is an excellent introduction to this country. On your arrival in Gocek you will notice that the area has not been ruined by mass tourism and still retains its beauty, set at the foot of breathtaking mountains. An excellent place to start your charter and stock up on supplies.
Day 1 GOCEK/SPRING BAY Your private yacht will be moored on the Gocek town quay or at anchor close to the village. The captain and crew will welcome you on board with a glass of champagne or a cocktail. A journey into paradise begins. There are many bays to visit in this enormous gulf. You captain will discuss with you the most interesting anchorages you may like to visit. A short sail will bring you to the very peaceful 'Spring Bay'. Enjoy a swim and maybe some windsurfing. Witness the first of many, memorable sunsets before enjoying an evening meal on board 'al fresco'. Should you wish to go ashore there is a charming restaurant, set under the trees at the water's edge.
Day 2 TERSANE/KAPI CREEK Early morning swims are delightful here as the water is perfectly still until about 11.00 am. After breakfast a leisurely sail across to the ancient boat building yard/settlement of Tersane. Drop anchor with stern lines ashore in this small anchorage. There are only a few interesting ancient ruins that remain here, but they are worth investigating. Walk to the top of the hills for
panoramic view of the area. Take advantage of the afternoon breeze for a sail to Kapi creek. Arrive early evening and enjoy some cocktails as the sun goes down behind the hills. At this anchorage there is a small delightful restaurant nestled between pine and olive trees and a few scattered ruins from centuries gone by.
Day 3 WALL BAY Breakfast is followed by a short cruise/sail around to Wall Bay. Anchor in this quiet bay with spectacular views. A small restaurant is located at the waters edge and kept cool by the pine forest covering the surrounding hill side. The water is crystal clear and perfect for swimming, snorkelling and all other water sports. The heat of the sun disappears early here due to the high ground flanking this bay. Cocktails before your meal on board or ashore. Plenty of stars in the sky and if you are lucky, sit back and watch a full moon rising above the hills.
Day 4 GOCEK/TOMB BAY Depart late morning for a cruise to Gocek village for provisions and browsing around the local market and shops. Lunch while under way, maybe reel-out some fishing lines to try your luck with the shoals of Bonito and small Tuna in the area. Pleasant sailing winds in the afternoon will make your journey to Tomb bay most enjoyable. Tomb bay has some very interesting ancient tombs cut out of solid rock in the cliff face and two charming restaurants offering good food.
Day 5 TOMB BAY/GEMILER ISLAND Early start after breakfast heading across the Gulf of Fethiye to the town of Fethiye. Approaching the town quay you will notice the large cluster of rock tombs cut in the mountain side. This area is worth a visit - by foot or taxi. After lunch, take advantage of the breeze and sail to Gemiler Island for the evening. The restaurants are very good here and often will have a Turkish belly dancer to entertain you.
Day 6 GEMILER ISLAND/DEEP BAY This interesting Island is said to be where St.Nicholas originated from. Ancient Greek and Roman ruins literally cover the island and there is a guide to show you around. Colourful mosaics still decorate some of the temple floors. A good pair of walking shoes is required to access the beautiful vantage point at the very top of the hill. Take a swim before lunch and then sail across the gulf to Deep Bay. This is a perfect place for a barbecue ashore.
Day 7 DEEP BAY/GOCEK Awake to the sound of bells! The goats are grazing in the hills. Today is your special day. Sail to one of many bays. Enjoy some watersports or just simply relax before you anchor off Gocek Quay. Your last chance to buy a beautiful Turkish carpet and a few special gifts.
Day 8 GOCEK Bon voyage and a safe journey home.
Itineraries will be tailor-made to suit your lifestyle. Call or fax us on
TEL. +44 207 580 3445 in UK; +33 251 00 17 73 in France
If you are looking to purchase a yacht, please contact our Brokerage Department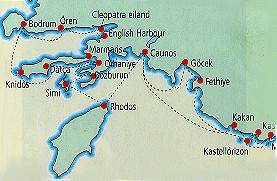 South Western Turkey
CLIMATE
Good weather is virtually guaranteed from mid April to late October. The area enjoys winter rainfall so the summers are long and hot. The prevailing wind is the MELTEMI which blows East to South East, late afternoon most days between late June to end August. Wind strength during this period is 20 -25 knots in the afternoon.
| | | | | | | | | |
| --- | --- | --- | --- | --- | --- | --- | --- | --- |
| Air Temperatures c/f | | | | | | | | |
| April | May | June | July | Aug | Sept | Oct | Nov | |
| 18/65 | 19/66 | 24/75 | 27/81 | 28/83 | 24/75 | 19/66 | 18/65 | |
| Sea Temperatures c/f | | | | | | | | |
| 18/66 | 19/66 | 21/70 | 23/74 | 24/75 | 22/72 | 21/70 | 20/68 | |
Other helpful telephone numbers:
Turkish Tourist Board Tel: 020-7629771 Fax 020-7491 0773
British Airways 0345-222111; Turkish Airlines 020-7499 4499;
https://www.skyscanner.com for flights.
----------------------------------------------------------------------------------------------
For more information on chartering in this beautiful area; colour brochures and full rate sheets, contact Andrew Hanna. We are specialists in the charter of yachts. Alternatively ask your favourite travel agent to contact us.
Visit the section covering available yachts in Turkey
Copyright © 1998 by Surface 1921 Ltd., London, United Kingdom. Text Copyright © 1998 by Surface 1921 Ltd. In all instances Surface 1921 Ltd. are acting as agents only. Full terms and conditions are available on request.