Calculation and Charter Terms explained
Gulet charter in Turkey.
We use the Mediterranean Yacht Brokers Association (MYBA Agreement)
Guide: How to calculate the approximate cost of a charter on Gulet Terms
This is a guide only. A 'rule of thumb'.
Example: Gulet 'Example'
€14.000
= Charter fee

for 1 week

€ 5.040 +
= Food Allowance Half Board (Breakfast and Lunch); 12 guests x €60 x 7 days

Generally calculated from €55 / €65 per day per person, depending on the standard of food offered and whether full board or half board.

€2.520 (on14k)
In some cases VAT at 18% is payable in Turkey. It is on the charter fee.
Foreign Flag vessels are not ruled to charge VAT.
€21.560
= Approximate Charter Fee on Vessel which has included VAT in the charter rate.
This would be a fair estimation for the number of guests specified by the yacht, for a week. This is a guide only. A 'rule of thumb'.
Some vessels offer All-Inclusive programmes
Notes:
1./ In some cases a vessel positioning fee is levied (delivery fee). This would be discussed and agreed with the Charterer.
2./ It must be noted that chartering a gulet is considered 'going native'. We have been careful to select only the best vessels.
3./ Many vessels advertise as being air-conditioned, when actually they are partially air-conditioned for a few hours only each day. Should air-conditioning be important to you, kindly refer to us for more details. There are select vessels that offer full 24 hour air-conditioning.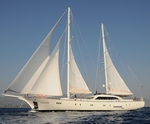 Visit our home page for Turkey
It is important, in order to budget correctly for a charter, to understand the terms under which the yachts operate. Please do not be confused by these terms. We will gladly explain in more detail. An outline of the terms is as follows:-
Gulet Terms Explained.
Special conditions used with the MYBA agreement.
The Charter Fee includes the charter of the yacht with all its equipment in working order, tools, stores, cleaning material and basic consumable stores for engine-room, deck and cabins, etc., the crew's wages, food and the insurance of the yacht for marine risk and third party claims and the crew for employer's liability insurance, formalities in Turkish waters and use of leisure equipment
The Charterer will be charged extra, at cost to the yacht, for all other expenses. These expenses include fuel (over the allotted hours included in the charter fee) for the yacht, fuel for the ski-boats or other tenders, wines, beers, spirits and soft drinks for the Charterers, other consumable stores requested by the guests, costs , laundry, use of the ships mobile telephone, fax, Radio Telephone or telex, hire costs of special equipment placed on board at the request of the Charterer. (If cruising in Greek Waters, berthing dues and other harbour charges, formalities and charges for water and/or electricity taken from the shore)
All these terms are subject to agreement.
IMPORTANT NOTES
Occasional variations between the terms offered by different yachts under the same main title do exist. For instance, one yacht may generally work on MYBA-WMT but also includes a small fuel allowance. However, the majority of yachts now operate under the well established and widely accepted MYBA Charter Agreement, sponsored by the Mediterranean Yacht Brokers Association and adopted by the American Yacht Charter Association.
Booking a Gulet
Once you have discussed with us the various types of gulet yacht, locations and terms under which the gulet operate, we will be ready to firm-up your booking. This occurs in stages and is quick and relatively painless (except for the transfer of funds of course!).
We will prepare and send you a MYBA Charter Agreement detailing the yacht, your chosen dates, location, cruising area and cost. (To accelerate the transaction a copy may be sent by fax, to which all parties agree is binding.)
Upon signing this Agreement the first payment, normally 50%, is due to the account shown on the Agreement.
The Agreements are then sent by us to the Owners for their countersignature and a completed copy is returned to you for your retention.
We will send you a detailed questionnaire requesting information on your travel arrangements, guest list, likes and dislikes, special requirements, etc. This information will be discussed with you in some detail to ensure we gather as much information as possible. This is then sent to the Captain so that he can pre-book any berths, order the right provisions and arrange the cook and crew to prepare that special birthday treat or other such celebration.
If there is no interim payment the balance is normally due one month prior to the charter commencing. At the same time we will ask you to send us the funds to cover the food allowance plus any taxes (VAT), delivery/redelivery fees and security deposit, if required.
The food allowance is immediately sent to the Captain, in cash, in order that the yacht can purchase provisions in advance ready for your arrival.
All costs incurred by the charterer and guests while ashore or special orders placed on board by the charterer will be required to be paid by the charterer during the cruise.
You are now ready for your cruise. If at any time, even during the actual holiday, you have any concerns, please remember you can always call us.
One factor we feel to be of extreme importance is that of insurance. Please pay special attention to the following recommendation:-
Insurance:
Cancellation and Curtailment Insurance is available on request to cover the loss of Charter Fee if a charter has to be cancelled by the charterer for genuine reasons. This is available on a quotation basis. This is highly recommended.
Personal Accident and Medical Insurance plus Personal Effects Insurance is also essential and is not included in the charter fee.
Copyright © 1998 by Surface 1921 Ltd., London, United Kingdom. Text Copyright © 1998 by Surface 1921 Ltd. In all instances Surface 1921 Ltd. are acting as agents only. Full terms and conditions are available on request.